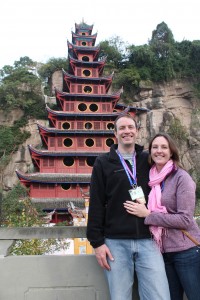 Tracey was born in Lebanon, Pennsylvania and grew up in Northern Virginia. In 2011, after wanting a change from D.C., she found a job with Mercy Corps and moved to Portland, Oregon. Tracey has been to over fifty countries and ran at least as many races (if not more), including dozens of half-marathons and five full marathons.
Michael was born and raised in Southwestern Colorado, before moving to Lubbock, TX for his high school and college years. After several years in Austin, Michael moved to Portland, OR in 2006. Michael has only run one three half-marathons so far, but he has been to quite a few countries (16 and counting!) since meeting Tracey.
Speaking of which, they met in January of 2014 after finding each other online. By the end of the year, they had adventured to Egypt and Romania together and knew for sure they were meant for each other. A year later, in China, Michael proposed and Tracey said "Yes!", and on September 5, 2016, they were married under the St. Johns Bridge in Portland, OR.
In April 2017, Tracey and Michael set off in their trusty Westfalia for a one-year road trip adventure around the US.
SaveSave
SaveSaveSaveSave